I'm a 36 year old mother to an energetic 3 year old, and I am a Web Developer. A sentence I am deeply proud to be able to say.

I didn't start my career as a Web Developer. I used to work in marketing across a range of sectors - ranging from Ministry of Sound, to Allianz Insurance - but after struggling with wavering job satisfaction and the desire to learn a technical skill, I made the decision to retrain at the young age of 33.
When I was a marketing manager, I always wished I had the knowledge and skills to be able to update website codebases myself rather than outsourcing the work. However, I didn't think it would be possible for me to become a developer. Why? I didn't know how to build a computer, I'm not great at maths, and most importantly, I'd never met a female developer before.
These stereotypical ideas of what I thought a developer needed to be were blocking me from realising I had exactly what it takes to retrain and become one; a strong work ethic, cross team communication skills and a passion for solving problems. The fact I was a 33 year old woman should have never been a reason I thought I couldn't do it.
According to Women in Tech, just 26% of the tech workforce are women. There is a huge opportunity for women to grab those roles with many companies actively trying to grow their female workforce. I wanted to be one of them.
Reframing the reasons why I couldn't do something, to why I absolutely should, gave me the motivation to go for it. Now, I just had to learn to code…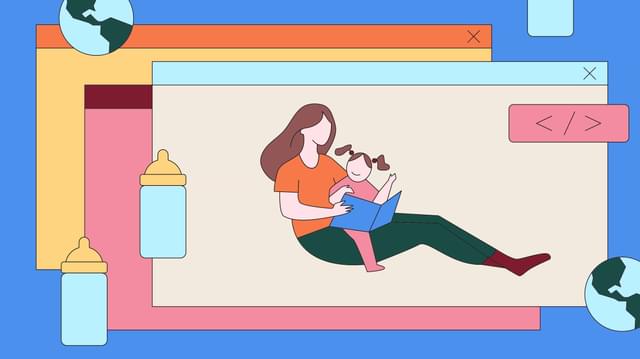 How did I retrain as a Web Developer?
Before throwing myself in at the deep end, as I often do, I thought it would be best to write some test code first to see if I like it, or more aptly, could I even grasp it.
Codecademy is an online learning programming platform with a reasonable monthly subscription price, so I started there. I still remember the feeling of seeing my first piece of code appearing in my browser. "Hello World" it said. I've done it! I could do it.
As it turns out, you don't need to enrol in a 3-year Computer Science Degree to learn to be a Developer. There are many options available, and the route I took was a Bootcamp. A bootcamp condenses the full Software Developer role into any schedule, and it takes anywhere from 3 months to a year to complete.
I decided to take the Diploma in Software Development (Full Stack) full-time bootcamp from Code Institute. They too are an online platform with each of the programming languages broken down into modules with explainer videos, exercises and gradable projects. A big plus is that they provide a mentor to assist you when you get stuck.
Once you complete the course, they provide career guidance, help to write a CV tailored to your own story and skills, and even share job opportunities for their graduates. I couldn't recommend Code Institute enough.
The Baby Bump Blocker

One month into the course, the universe decided to throw in a curveball and I found out I was pregnant. Naturally, I started to freak out a bit. How am I going to get my first coding job as well as being a new mum? Why would a company hire me over someone without a child?

But was I going to let my baby bump block me from starting my career change journey? Absolutely not.

I used this change in circumstance to reinforce my purpose. Not only do I now have to provide for my incoming daughter, but I also want to make her proud of her mum and wave the flag for women and mums alike in tech.
Thankfully, I submitted my final Full Stack project a month before my daughter arrived. I may have barely been able to reach the keyboard by this point, but I did manage to score a distinction for it.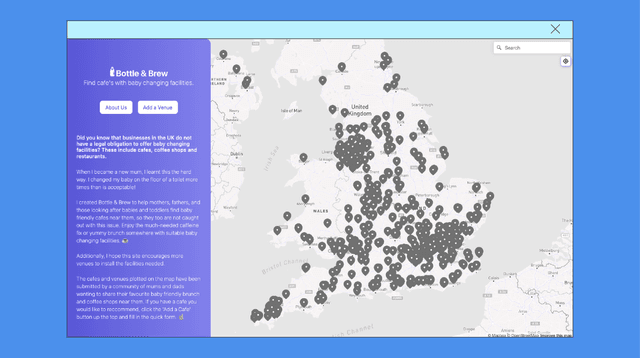 An idea (and baby) was born

Towards the end of my maternity leave, I decided it was time to start to code the project that I would use to land my first role. I needed a good idea to get my application to stand out.
During that year with my newborn I visited a lot of cafes. A lot. I was surprised by how many of them didn't have baby-changing facilities. Even those who appeared to heavily rely on those on maternity leave and antenatal groups during the weekdays. Changing a baby on the toilet floor isn't ideal, it's really disgusting, especially when they start becoming grabby and flipping over.
And so my idea was born, as it were.
Bottle & Brew, a community-based website of cafes that have baby-changing facilities. Two Problems solved. Anyone can add a venue to the site, which now has over 500 listings.
As well as a tool for landing my first role, this site now has a real-world purpose, and will hopefully encourage more venues to install baby-changing facilities. I told you I had a passion for problem solving, didn't I.

Landing my first Frontend Developer role.
According to an internal study at Hewlett-Packard, men apply for a job when they meet only 60% of the qualifications, but women apply only if they meet 100% of them. I know this has certainly been the case for me, not bothering to waste time in applying for roles I surely wouldn't get.
That was until I read the Frontend Developer role for Nice & Serious. I remember feeling a little different about this one. I knew I didn't have all the skills they were looking for. Some of the programs and systems I had never even heard of, but I still applied. After two interviews and a technical test, I got the job.

Since then, they've allowed me to train on the job and teach me the areas of the job spec that almost stopped me from putting myself forward for the role. I wish all companies did this too, which will hopefully help close the female web developer gap.

Getting more people into the job
Many tech companies are finally seeing that by offering flexible working hours and WFH options, they can cast the hiring net into a much wider talent pool: women with children included.
Retraining and becoming a developer has completely changed my life. I can see the career progression and I am going to go for it.
So here I am. Woman. Mother. Career Changer. Proud Web Developer.
If you're thinking about becoming a developer and would like to have a chat, get in touch with me at michelle@niceandserious.com